Private Sunrise Tongariro Alpine Crossing Guided Walk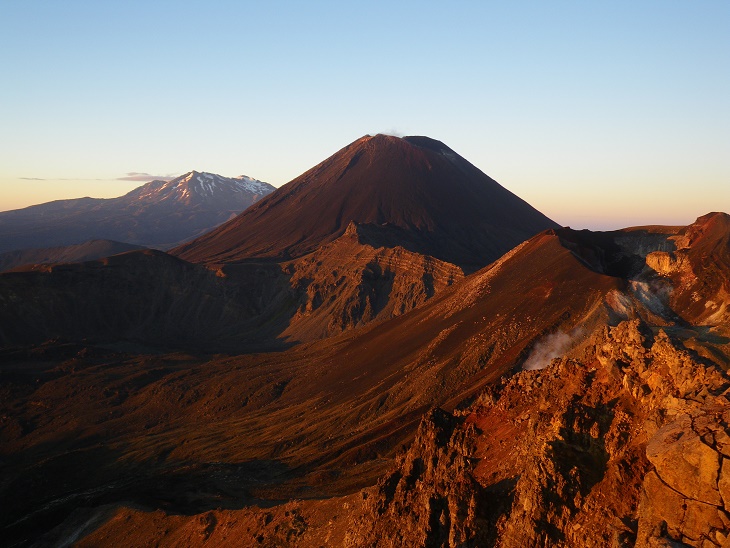 Duration: 8 Hours (approx.)
Location: National Park Village, NZ
Product code: GWEXSUNTAC
Our privately guided trips provide you with a really personal, informative and friendly experience you will never forget. The beautiful scenery does a lot of the work for us but we have tailored this trip your group is private to you, your guides are well informed and keep you safe by constantly assessing the weather and track conditions, timing for your Ketetahi personalised transport pick-up, and other little details that will maximise your enjoyment. They can also tailor the trip to accommodate different fitness levels and avoid weather-exposed sections.
Experience the Milky Way at the Tongariro, shooting stars streaming in the clarity that only the pre-dawn can achieve, come and see the sunrise at Red Crater and enjoy breakfast alfresco.

The Sunrise tours route often varies between the standard route to the standard route in reverse, and sometimes a route that takes us back to the start. The chosen route is dependent on weather conditions, time of year and your needs and ability. The sunrise route is the same route as the daytime tour but with one obvious exception ... NO CROWDS!
Please note: A minimum of two people are required to offer this private tour. Subsequent bookings over and above two people can book at the standard tour rate.

Included
Private guide/s, transport between the Adrift Tongariro base and the activity, breakfast (vegetarian available on request at time of booking), all clothing and footwear hire.
Timing
Tour starts and finishes at the Adrift Tongariro Base 53 Carroll St, National Park Village.
Trip departures available summer only (1 October - 31 May) on application and confirmation.
Meet at the Adrift Tongariro Base: Departure times vary daily and will be advised in accordance with the changing sunrise times but are 4.5 hours prior to sunrise and vary between 1:30am - 3:00am. Please call Adrift Tongariro between 10:00am - 5:00pm the day prior to confirm tour departure time. +64 7892 2751

Return: These vary in accordance with the changing sunrise times but vary between 9.30am-11.00am.

We endeavor to remove the risk of clients not having adequate clothing and equipment for the conditions. To achieve this, we request clients to meet at the Adrift Tongariro base to improve both safety and service as this is outfitted with all equipment and clothing needs for the conditions of the day.

Gear List
Water (1-1.5 litres), Personal medications (e.g. Asthma Inhaler, blister protection etc.), sunscreen, sunglasses, backpack per person, hiking boots, thermal longs and/or walking trousers & over-trousers, 3 warm top layers (wool, merino, thermals, fleece, soft shell etc. are good layers), Waterproof raincoat, Warm hat and gloves.
Gear Hire
Adrift Tongariro has available for hire personal equipment footwear and clothing to supplement that which you don't have and need including boots, socks, thermal longs, fleece longs, waterproof pants, thermal tops, fleece tops, waterproof tops, warm gloves, warm hats, sun hats, sunglasses, backpacks, walking poles, sleeping bags and liners.
Fitness and Experience
A reasonably good level of fitness is required. If you are concerned about your fitness please let your guide know before commencing the walk, as there are options we can discuss with you. Walking time is about 7 hours including stops. No alpine experience is required.
Re-confirmation
It is essential all clients phone the Adrift Tongariro base between 10:00am - 5:00pm the day prior to trip date to confirm tour departure time and discuss exact timings. +64 7892 2751.


Terms and Conditions
In the event that Adrift Tongariro consider the weather to be of such a nature to expose the group to undue risk then Adrift Tongariro will defer the tour to a day tour. PLEASE ALLOW FOR THIS IN YOUR ITINERARY. If a day tour does not proceed and an alternative tour is not viable then a full refund will be given.
If Adrift Tongariro defer a sunrise tour to a day tour the difference in the cost of these two tours will be refunded.

This is a Tongariro Alpine guided tour. We do not guarantee reaching the Ketatahi end. Safety regarding, weather, avalanche, ice and hypothermia are taken into consideration when securing our exact route for the day.

For full terms and conditions click here.